*This post has been sponsored by Mirum Shopper. As always, all thoughts and opinions are my own. Thank you for supporting the brands that support Lipstick and Brunch!
Up until now, my pregnancy has not been easy but this past month I had a moment where the morning sickness, aches and pains were not playing the main role in this journey anymore: the day our baby boy decided to kick! It wasn't a subtle kick and it didn't feel like butterflies like most people described; it was a strong, somersault-like movement that both my husband and I could see on my belly and we were mesmerized. All of a sudden, I started to feel excited about everything that would change in our lives when our baby boy was born. I started to fantasize about what he would look like, how much hair he would be born with and if he would have my hubby's hazel eyes and my chubby cheeks. I'm so excited to welcome our baby into our home (just 5 weeks to go!) even though I know it'll come with a lot of sleepless nights and unknown adventures that we're not prepared for. As for the name …….
…
…
…
it's Nicolas Enrique!
Here's all the things on my bucket list once Nicolas Enrique arrives home:
Change His Outfits
I can't help myself when I see cute baby clothes and from the looks of my baby shower gifts, neither can anybody else! I swear his little closet is full of so many bow ties, seersucker pants and blazers; I even told my husband that he should start thinking about "Daddy and Me" outfits. I hope Nicolas Enrique is ready to pose for his photographer mommy!
See Him Play with Miguel
My hubby is over the moon about our first baby. He has been dreaming about this for a long time (exactly 5 years, ever since we got married)! I wanted a baby too but he was just ready before I was. I've never seen my hubby interact with a baby and he admittedly has never babysat one either. I'm psyched about witnessing his transition into fatherhood because I think he's going to be amazing.
Give Him A Bath
I can't wait to pamper Nicolas in his cute whale tub using the new Baby Dove Rich Moisture collection available at H-E-B. Did you know that baby's skin is 30% thinner than our own when they're born? That's why this hypoallergenic formula with the signature Dove ¼ moisturizing cream is perfect to keep their skin moisturized and soft. I'm particularly excited to try the baby wipes, not just on the baby but also on myself (their scent is so calming and fresh, might even toss them in my gym bag!). My mom always used to tell me baths soothe and help babies go to sleep so I'm looking forward to creating a nightime routine for my little one.
Furnish The Nursery
So we're 5 weeks away from delivery and the nursery isn't fully ready yet-YIKES! I hadn't felt great these past months and as I mentioned before, my morning sickness still prevails but when Nicolas Enrique kicked last week, my mind went into overdrive looking for nursery inspiration on Pinterest. We've painted the room already and even ordered a comfy glider rocker this past weekend but so much is still left to do! The only only thing we have as decor in our nursery right now? This beautiful sign with his name that his great-aunt Tita crafted for him!
Have Family Dinner
I know he won't come out of my womb ready for some of his daddy's arepas or his mommy's baleadas, but we cook so much at home that we're excited to introduce him to all the flavors in our kitchen. We keep going back and forth with my hubby on who's food he'll like better and just talking about how lucky he'll be that both his parents love to cook. It makes me giddy to think that there will be another place setting on the table!
So even though everyone has told me about how hard adjusting to life with a baby is, I can't hide the fact that I'm over the slump where I didn't see a silver lining. Having a baby will change our lives forever and we are thrilled about it because it's going to be a whole new exciting adventure. I'm pretty sure my bucket list is going to get longer the closer I get to meeting Nicolas Enrique but for now, I'll be fantasizing about matching his outfits with his daddy's and ending his days with a soothing bath before bedtime while he looks up and smiles at me.
What did you look most forward to doing with your baby when he was born?

Enter the GIVEAWAY below to win one of five Baby Dove sets! Contest starts on Wednesday, June 7 at 9AM and ends on Friday, June 16 at 10PM. Winners will be announced Friday, June 16 at 9PM on the Rafflecopter widget on this post and will be contacted through email. Contest is only open to residents of the continental USA.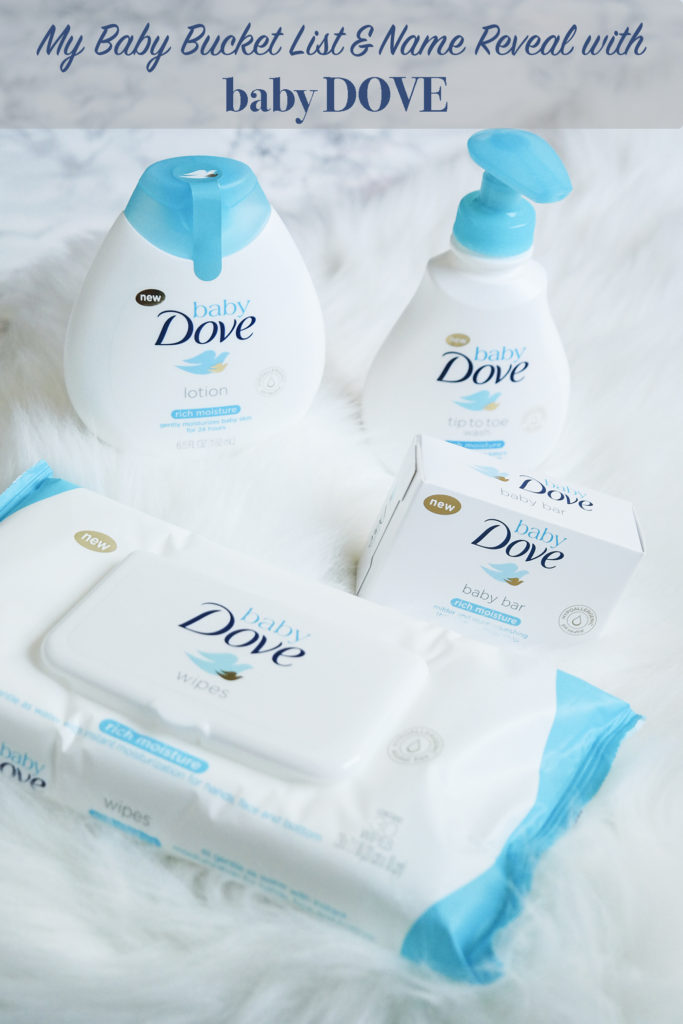 Facebook Conversations